These miniature Lightning Earbuds are designed to be the smallest, lightest, and most comfortable headphones you can get. They're also fully compatible with Apple devices that have a lightning port, including iPhone 7/7 Plus/6s/, 6+, SE AirPod 2nd Gen., iPad Pro 9.7 inch 2017 / 12.9 inch 2017 / 8th generation (2018)
The "urbeats wired earphones with lightning connector" are a pair of Apple Earbuds that have been designed for iPhone users. They come in a variety of colors and have the ability to be connected to any device with a lightning connector.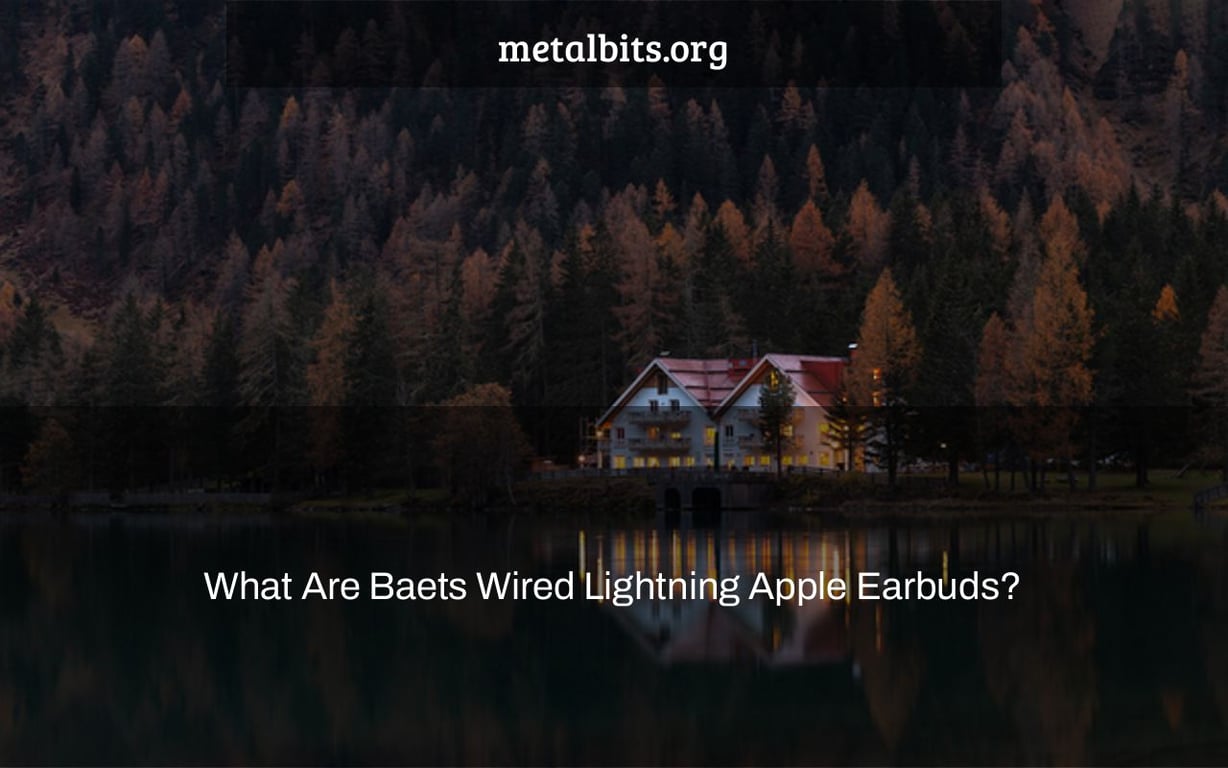 We earn money from qualifying purchases made on our website as an Amazon Associate.
So you bought a set of basic wired lightning Apple Earbuds, but they say "Baets" instead of "Beats" when you connect them in. Many of these earbuds come with a lightning connection and Bluetooth, however they don't have a battery. What kind of earphones are they, and are they genuine?
The Baets Lightning Apple Earbuds are a counterfeit of the original Beats Lightning Apple Earbuds. They are not genuine Apple Lightning earphones, and are often produced in China and offered as low-cost AliExpress earbuds. These earbuds are sometimes built using genuine Apple earpods but a non-original minijack-to-lightning converter.
In the end, it's reasonable to assume that the Earpods aren't authentic Beats if the term Beats is misspelled. "Baets" earbuds are low-cost knockoffs that capitalize on Apple's brand name. 
These earphones will identify themselves as "BAETS" whenever you connect them to your iPhone or other Apple device.
In general, we advise you to spend a little more money and get authentic Apple earbuds. 
What Are Baets Earbuds and How Do They Work?
"Baets" earbuds are corded but Bluetooth earphones that are knockoffs of Apple's EarPods. 
How do you recognize Baets earbuds?
They are inexpensive. 
They've been renamed a "Wired Bluetooth Headset." This doesn't make sense; why does it require Bluetooth if it's wired? 
They will not be recognized immediately by your iOS device. To get it to work, you'll have to fiddle with your phone's audio selection options.
They call themselves "Baets," of course.
Is it true that Baets Earbuds have Bluetooth, and if so, why?
Many of these counterfeit Baets earbuds feature a lightning connection, but they don't have Bluetooth or a battery. I'm not sure how it makes any sense.
Why would they choose for Bluetooth communication over the lightning connector, especially as there is no battery?
Because the earbuds have a lightning connection, they do not need Bluetooth, and if they do, they will require a battery. 
Why would manufacturers include Bluetooth and raise production costs if the Bluetooth connection isn't necessary?
We tried having the earphones attached to one phone through the lightning connection and being able to view the earbuds from the Bluetooth pairing settings on another phone, so they can be used with Bluetooth. 
However, why have a Bluetooth connection when you already have a lightning connection?
The Reason for the Lightning Connector and Bluetooth on These Baets Headphones
What Is The MFi Program, Exactly?
Because the producers take standard Bluetooth capable earbuds and add the lightning connection so that they may show specific MFi-related badges on their product packaging, such as the "Made for iPod" label, these imitation Baets headphones include the lightning connector and Bluetooth.
This is why many earphones aren't compatible when Bluetooth is switched off. 
Apple's MFi Program, commonly known as "Made for iPhone/iPod/iPad," is a licensing program that permits hardware manufacturers to create peripherals for Apple's devices, including the iPod, iPad, and iPhone.
Please note that there is no MFi program charge, however there is a license price per device/connector.
The application covers the headphone jack and the Lightning connection, among other Apple device connectors. After joining the program and paying the licensing costs, companies may use MFi-related emblems on their product packaging, like as the well-known "Made for iPod, iPhone, and iPad" badges.
2. Adapters that aren't original
The earphones may be real in certain circumstances, but the adapters may not be. The earbud itself is original in these situations, however the minijack to Lightning converter is not. 
How Can Baets Earbuds Be Avoided?
To prevent buying non-original Baets earbuds, make sure you get your Apple earbuds from a reputable retailer. 
Here are a few things to think about:
If you buy EarPods that come with an iPhone, the EarPods should be the same color as the iPhone. If your iPhone just has a Lightning connection, your EarPods should also have a Lightning connector and not need an adaptor.
Non-Original Adapter: The earbud may be original, but the minijack to Lightning converter may not be. 
Buy from Reputable Sources: Apple shops, the Apple website, and other authorized Apple dealers are the finest locations to get Apple items. You're more than likely to receive an unoriginal "Baets" earbud if you simply walk out and purchase earphones from any random shop in the mall. 
What Should You Do If You Buy Baets Earbuds?
If you believe you were duped into buying Baets earphones, we suggest contacting the merchant where you bought them to see if you can receive a refund.
While the word "Baets" is enough to indicate that these earbuds are not genuine, if you want to be certain, you may contact Apple Support. They'll be able to tell whether the gadget is real and provide you with more guidance on how to handle the situation. 
Keep in mind that many sellers will argue that you should have realized they weren't genuine based on the pricing.
If they charged you the usual fee for Apple earphones, however, you have a good case. Even if they were significantly cheaper, you still have a case against the vendor for making false representations and selling a counterfeit product. 
Earbuds from Baets that are the best
Although it's difficult to select the best Baets earbuds, we always advocate purchasing authentic Apple earbuds, such as the ones listed below:
SALE!!
AirPods are Apple's wireless headphones (2nd Generation)
By saying "Hey Siri," you can quickly reach Siri.
With the Charging Case, you may listen for over 24 hours.
Easy setup, in-ear detection, and automated switching combine to provide a really spectacular experience.
SALE!!
AirPods (3rd Generation) by Apple
Sound is placed all around you using spatial audio and dynamic head tracking.
Adaptive EQ automatically adjusts the volume of music to your preferences.
a completely new contoured design
In any event, the Apple Earbuds with Lightning Connector by Wtuley are the finest Baets earbud we've discovered on the market:
SALE!!
Apple Earbuds with Lightning in 2 Packs…
'Wide Compatibility' is a term used to describe a product's ability to work All connection devices are compatible. Including
'Remote and Microphone' is a combination of the words'remote' and ' You may use the remote to change the volume, control the playback, and answer or terminate calls…
'Risk-free Guarantee' is a guarantee that you won't have to worry about anything. If there are any problems, we have online assistance available 7 days a week, 24 hours a day, 365 days a year…
Baets Earbuds Characteristics
Aesthetic Appeal
Of course, the audio quality of these Baets earbuds will be inferior to that of your original Apple Beats headphones.
However, for most people, they are subpar terms of Aesthetic Appeal. Moreover, for the more discerning and professional audiophiles, there will be a noticeable difference in quality. 
In fact, many individuals have complained about how bad the audio is. However, it is entirely dependent on your listening habits. Some users have complained about difficulties such as the microphone not working and other similar concerns. 
It's possible that the volume may go too high or too low at times. In such circumstances, you may need to experiment with different ways to raise the volume on your iPhone. 
Customers' most common complaints regarding these earphones are:
Low-frequency (crackling) sounds on a regular basis
Audio quality is generally poor — it's too loud, the treble is too low, the mids are too low, and so on.
Every 3-5 minutes, the volume of some of these earphones would be reduced to zero.
There is no noise cancellation, so you may hear ambient noise.
Negative feedback
Durability
The majority of the earbuds are constructed of low-cost materials and built in a shoddy manner. They usually disintegrate quickly and do not endure long.
The wires may easily fall apart and other linked elements might loosen unless you handle them with utmost caution. 
You could get lucky and get a robust one, but most are weak and poorly constructed, and everything comes apart within a few days.
Connectivity
These Baets earplugs are likewise unreliable in terms of connection. These are the earphones that only operate when they're supposed to.
Furthermore, you must connect each time you put one into your smartphone since they do not operate without Bluetooth. Genuine Apple earbuds are easy to plug in and listen to right away. 
Design
These earbuds seem quite similar to authentic Apple earbuds, but you can frequently tell the difference if you look carefully.
They're knockoffs with tiny wires, aren't ergonomic, and are thus unpleasant to wear. Baets are earplugs that must be re-adjusted often or they may fall out. 
Conclusion
The bottom line is, Baets headphones function, but they offer terrible Aesthetic Appeal, they fall apart easily and have many other issues. If you just need a cheap earbud and you don't really care about quality, sure, you can get one of these. Otherwise, purchase a genuine Apple earbud from a reputable Apple store or from the Apple website. 
The "beats urbeats3 wired earphones" are a type of earbuds that are made by Apple. They have a wire attached to them and they come in different colors.
Frequently Asked Questions
What are wired lightning headphones?
A: Wired lightning headphones are a type of headphone that has the audio signal transmitted through wire to the earphones rather than via Bluetooth. This allows for better sound quality over wireless headphones because there is less interference from other devices on your phone and in your environment, which can degrade sound quality or even cause some distortion depending on whats going on around you.
Are Apple wired earbuds good?
A: The Apple wired earbuds are great at isolating noise from the outside world. They also have a long-lasting battery life and theyre comfortable to wear for long periods of time.
Do Apple EarPods with Lightning connector have a mic?
A: Yes, they do. They will work with any device which has a Lightning connector and mic capabilities. If you are using the EarPods with your iPhone or iPad, then yes you can use them for gaming on PSVR.
Related Tags
beats urbeats3 earphones with lightning connector
beats lightning earphones
apple beats urbeats3
urbeats3 earphones with 3.5mm plug
urbeats3 lightning review