Injection molding is a process of creating objects by injecting molten materials into pre-defined molds. It's the most common manufacturing method in use today and has played an integral role in shaping our society as we know it.
The "injection molding" is a process that involves the injection of molten plastic into a mold to create a desired shape. In 2022, the injection molding industry will be influenced by many trends.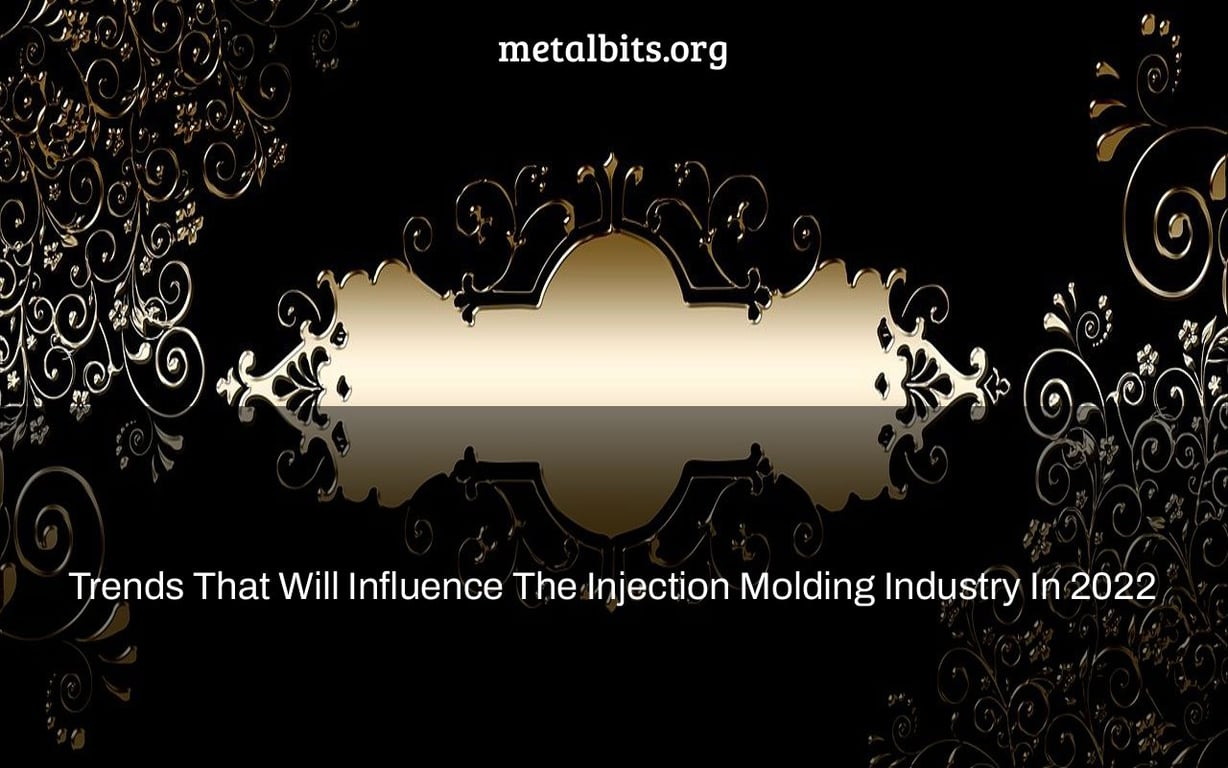 With injection molding cementing its position as one of the most widely used formation processes with a wide range of industrial applications, the market continues to evolve and demonstrate how one manufacturing method can quickly replace older, inefficient ones if it produces better end products through a more efficient process. Custom injection molding components highlight why injection molding is the best answer for a wide range of companies looking to produce a large number of cost-effective, high-quality parts. 
According to Market Data Forecast, the worldwide injection molding market size was $20.14 billion in 2021 and is predicted to reach $23.76 billion by 2026, with a CAGR of 5.95 percent over the anticipated period.
This manufacturing method is generally used to create elaborate and complex shaped items. The healthcare business, for example, is the injection molding industry's fastest-growing application category. Plastic injection molding is employed in a variety of applications, including blood sample cuvettes, needle housings, pregnancy test devices, and more, owing to its lightweight, cost-effective, and easily serializable features.
And injection molding's tremendous expansion shows no indications of slowing down, if anything, it encourages even more innovation in the area. In this short post, we'll look at the most important developments that will continue to affect and accelerate the injection molding industry's steady growth in 2022.
A Greater Emphasis on Sustainability 
Sustainability and its effects on the environment are major problems that will continue beyond 2022. The goal is to minimize emissions and toxic and non-disposable waste going to landfills. As a result, in 2022, the recycling trend will continue to dominate in all production processes, including injection molding, with a strong focus on achieving 100% recyclability. 
There are now consulting professionals who can offer businesses solutions on how to improve their active recycling options, adjust their fabrics to add more recycling possibilities, and transform their clients' idea of recycling in the products they buy at a time when recycling has emerged as a separate industry. In addition, product development using injection molding will focus on biodegradation, bioplastics, and everything else related to sustainability.
High-Performance Materials are used 
One of the most important developments in injection molding designs in 2022 will be the use of long-lasting, corrosion- and temperature-resistant materials. Manufacturers in the automobile sector, for example, are already using these materials as a proven approach to extend the life of their vehicles' components. 
This way, automotive manufacturers are also reducing the poundage of assorted parts of the concluded product to enhance the general fuel efficiency of the assembled vehicle. It's calculated that every 10% decrease in vehicle poundage results in a 6-8% decline in fuel usage, so High-Performance Materials are used in the automotive industry is already incorporated and ready to be followed by all other sectors that need to produce top-quality, resistant, ready-to-use parts.   
Furthermore, as we discussed in the previous section of this article, the usage of environmentally friendly materials is gaining momentum since they have less negative effects on the environment. Polyurethane, Polypropylene, and PVC are three of the most often used plastic materials for injection molding that are both environmentally benign and high-performing.
For Better Automation, More Software Enhancements 
The most recent software solutions provide manufacturers with innovations and updates that may help them improve component and injection mold designs as well as automate the whole production process. This allows companies to improve the design quality and accuracy of components from the outset, resulting in reduced costs and potential savings. 
The newest software models also contain the ability to simulate how liquid plastic streams throughout the injection molding process, allowing manufacturers to better anticipate production flaws. Furthermore, the software will allow designers to analyze and adapt component manufacturability early in the design cycle, allowing them to make the necessary changes.
Final Thoughts 
Given the unpredictability and unexpected nature of 2020 and 2021, many manufacturers, product designers, and engineers may be tempted to revert to the status quo. They may, however, improve their outcomes in 2022 by grabbing some of the great chances outlined in the trends above, and establish themselves as trend-setters and market leaders in their respective sectors. 
The injection molding business is about to be shaken up by a reinvigorated dedication to environmentally friendly production techniques, the use of high-performing materials, and enhanced process automation. As a result, be sure to change your processes as needed to get the most out of your injection molding-powered production in the future.
Watch This Video-
Related Tag