One of the most interesting aspects of Samsung's A10e FRP is that it doesn't require a computer to run. This opens up an entirely new market for games and apps, which could make some phones like the Galaxy S8 even more attractive than they already are.
The "samsung galaxy a10e frp bypass without pc 2022" is a method to bypass the FRP lock on Samsung Galaxy A10e. It can be done by using an Android Debug Bridge command line tool.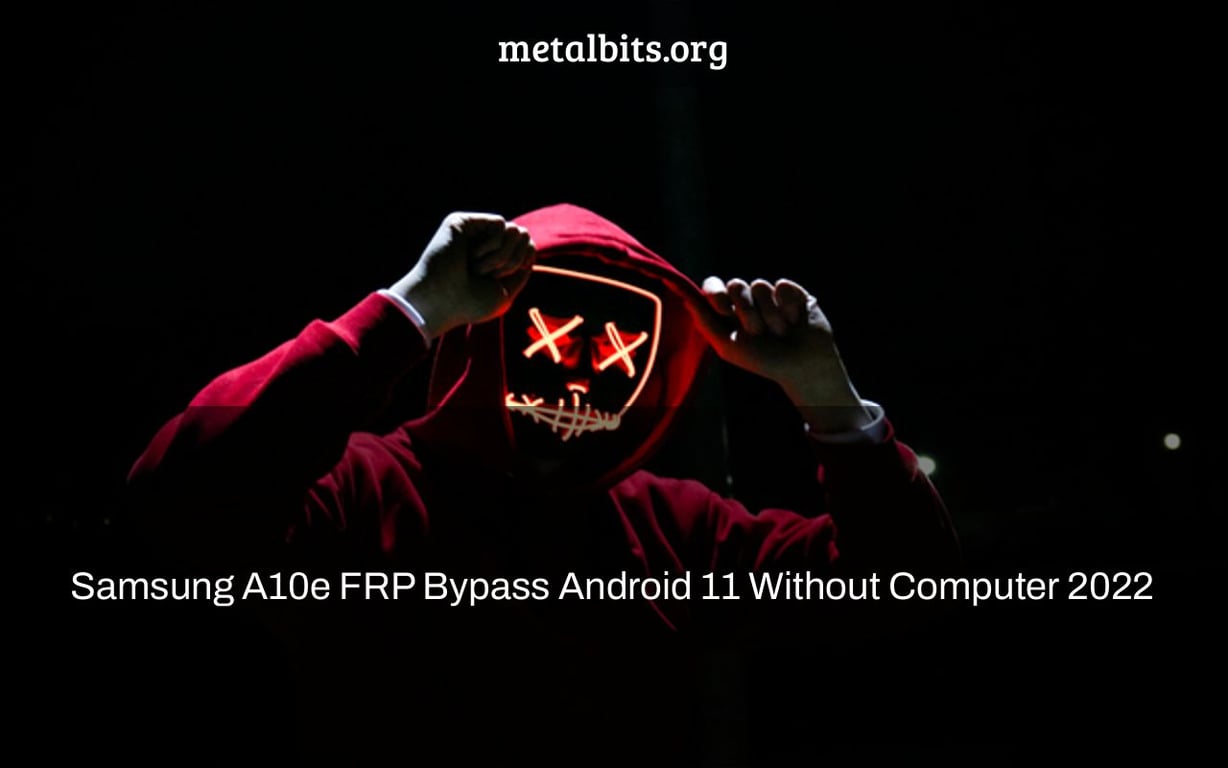 For further security, several phones include this FRP lock. Google added FRP lock on Android devices with Android 5.0. This feature was developed to prevent the illicit use of a stolen Android phone. This bug may cause real users to get stuck. You will learn how to bypass Samsung A10e FRP without a computer in this post.
All Samsung A10e models "SM-A102U, SM-S102DL, SM-A102U1, SM-A102W, SM-A102N" were supported by this FRP Bypass technique.
Download FRP Tools and See More Solutions Join us on Telegram at t.me/frptools.
Without a SIM Card, Samsung A10e FRP Bypass Android 11
The FRP Bypass technique is a flexible procedure. Google releases new security improvements every week, and the old frp look removal technique stops working. On my LearnOneTech website, I make every effort to keep the frp solution up to date. So, to get the finest FRP SAMSUNG A10e bypass solution, carefully follow the instructions below.
Without a PC, Bypass Samsung A10e FRP Android 11
This is the most recent method for bypassing the FRP lock on the Samsung A10e running Android 11. (tested). In this step, I'll teach you how to bypass frp on a Samsung A10e without using a computer. So stick with me…
What do I need to carry out this procedure?
Unlocked Samsung Phone with FRP
A SIM card that includes a data package
An account with Samsung
apk Notification Bar (Download)
Disabler Pro.apk package (Download)
First and foremost, you'll need to do some basic preparation before you begin. You will need an unlocked Samsung phone to achieve this. To unlock the phone, you must:
Access your Samsung account.
Then, on your unlocked Samsung cellphone, download and install the two apps mentioned above (1. Notification Bar.apk, 2. Package Disabler Pro.apk).
You must backup these programs to your Samsung account after installing them. Please follow these instructions:

Go to the settings > Accounts and Backup > On the Samsung cloud, click on "Back Up Data" > Deselect all except the "Apps" > and finally click on "Backup Now."
With the same Samsung Account that we used to log into FRP, we were able to unlock the Samsung A10e phone. Please carefully follow the frp bypass procedure.
The Bypassing of Samsung FRP Began
On a Samsung device with FRP enabled:
#Step1: Go to Settings on your Samsung phone:
You don't need to connect to any wifi network after inserting a SIM card.
Press and hold for 3 seconds with the Side and Volume UP keys > Tap on "Use."
Then press and hold the Side and Volume UP buttons for 3 seconds to activate TalkBack. (Note: To do anything after the talkback has been engaged, touch or push the choice two times.)
Draw reverse L on the Phone screen, tap on "while using the app," then double click. Now select the "Use Voice Commands" > And say loudly, "Google Assistant" (If this process does not work the first time, then do it again.)
Okay, the Google Assistant has officially launched. By tapping the Side and Volume UP buttons, you may turn off the talkback.
"Hey Google, open settings," say loudly. It's alright if the settings are open. If it isn't open, touch on the Google symbol as seen in the image.
Now press the "Voice" button and speak out loud, "Hey Google, Open Chrome."
Click on the "Accept & continue" and then "No thanks."
#Step2: Go to Settings and log in using your Samsung Account.
Tap and put "bit.ly/frpunlocktools" into the chrome URL bar.
Click on "Open Settings App" > now login to your Samsung Account and cancel the "Faster way to sign in."
Step 3: Make the Accessibility Button Active
Come back to settings by tapping the back icon, scroll down and tap on "accessibility" > Interaction and dexterity > Universal switch > keep pressing on "Next," then click on "Done.
Now click on "Universal switch shortcuts" > Turn it On > Allow > enable the "Accessibility button" and then come back to settings again.
#Step4: Back up and restore the old data
From the setting, tap on Accounts and Backup> Now tap at the same time on Restore Data and Accessibility icon > select all and click on Restore.
Then Install Backup> click on Done.
#Step5: Download the Galaxy Launcher for the S7, S8, and S9 from the Galaxy Store.
Click on Samsung Account > Samsung Apps and services > Galaxy Store > Now and update the Samsung Galaxy.
1. "Installing" appears when the update has finished downloading. Then press the back button. (If it asks you to update again, do so.)
Again click on Samsung galaxy store > Agree > Continue > Skip > tap on the search bar and search here "S7, S8, S9 Launcher for galaxy" > Install it > Click on Open.
#Step6: On the Package Disabler Pro application, choose "Allow management of all files."
The programs "Notification Bar" and "Package Disabler Pro" appear in the Apps list.
Now go to the Settings > Privacy > permission Manager > Files and Media > click on 3 dots from the upper right corner > click on Show system > Now find the "Package Disabler Pro" and give permission to the app by clicking "allow management of all file"> Allow.
#Step7: Notification Bar Application Settings
Come back to the home screen > and open the "Notification Bar application > Click on Accessibility > Installed Service > Notification Bar > and then turn it on.
Again Come back and click on notification > and allow the Notification Bar.
#Step8: On the Package Disabler Pro app, enable KNOX Validation.
Tap on the Back and from the installed app list, find the "Package Disabler Pro" then open it. (Before doing this, first turn off all internet connections (Wifi & SIM Net), If mobile data doesn't stop, remove the SIM card instead.)
When the app opens, check the "I agree" and click on the "Enable Admin" > then click on the "Activate" button.
After checking "I have read and agree," click the "Confirm" button. (You'll need to connect your phone to the internet for this, so plug in the SIM Card again.)
Okay, it's possible that after hitting the "Confirm" button, it will say "Retry." Don't panic, just click the "Retry" tab again.
"Knox license validation completed successfully," says the notice now.
#Step9: Bypass the Samsung FRP Lock in the last step.
The "Please wait" screen will show at this point.
Now tap on the search icon, and find the "Setup." Form the search results first, click on the "Android Setup" > check the "Disable" > Tap on the Back icon.
Click on the "Samsung Setup wizard" > click on the "Clear Data." (When you clear Samsung setup data, then you see "Time" shows on the notification bar. Which means your Samsung FRP Bypass complete successfully)
The finishing touch
Friends, I hope you've been following this approach attentively for a long time, and that you've been able to successfully bypass Google FRP on Samsung A10e without using a computer. If you have any problems unlocking, please contact us using our contact page or message us on Facebook. Thanks!
The "frp bypass tool for samsung a10e" is a device that allows users to bypass the factory reset protection on Samsung A10e.
Related Tags
frp bypass a10e 2022
frp bypass galaxy a10e without pc
how to bypass google account on samsung a10e without sim card
bypass google account samsung without pc
samsung a10e frp bypass apk