If you're having problems unlocking system preferences on your Mac, here are a couple of tricks to help.
Unlocking the system preferences on a Mac without a password is possible. However, it can be difficult to get it done and requires some technical know-how.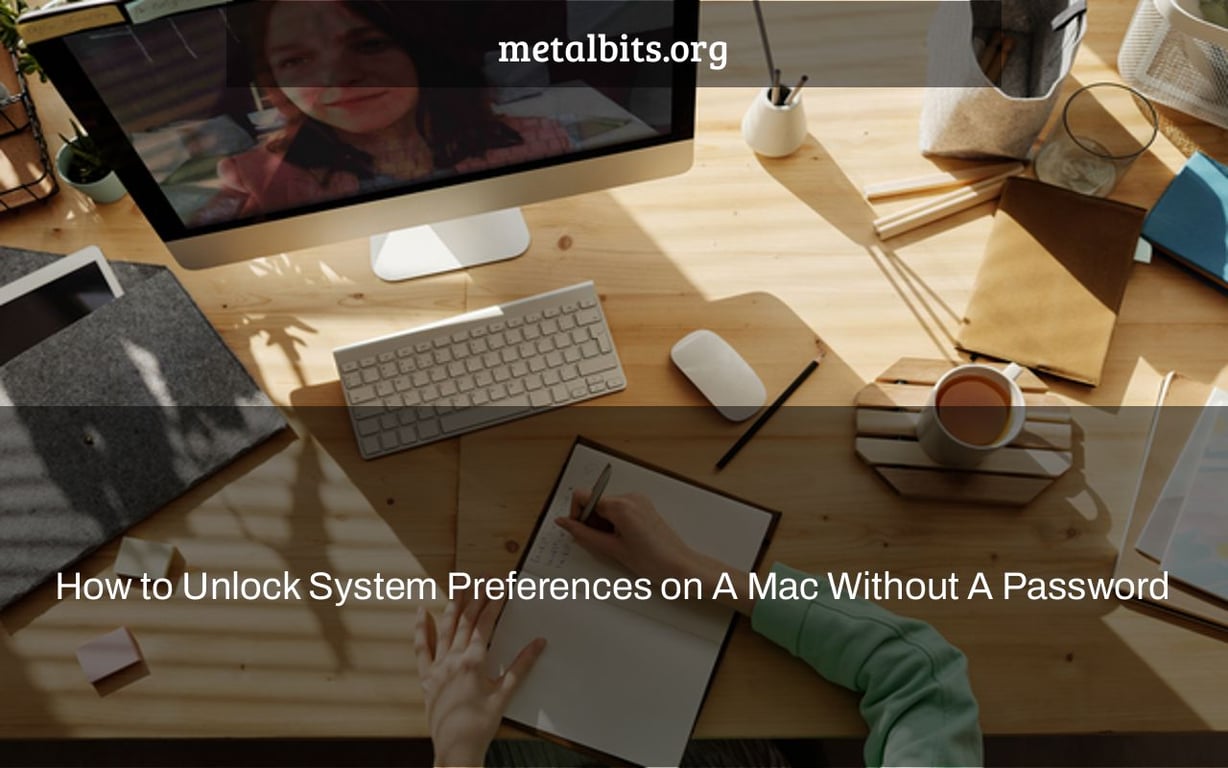 If you don't know the password or have forgotten it, opening System Preferences might be tough.
After all, your system settings are where many of your Mac's most crucial controls are kept, so password security is essential. But what happens if you forget your password?
There are a few options for gaining access to System Preferences.
Without my password, how can I go into System Preferences on a Mac? 
If "Lock to Make Changes" is enabled, System Preferences requires a password to access. Rebooting the computer, changing the password and trying again, updating the machine, or contacting Apple Technical Support are all options. When signing in as a non-admin, System Preferences simply needs a password.
Security and Privacy, for example, are password-protected settings in System Preferences. Continue reading to discover how to get into your Mac's System Preferences without a password.
A password is required for System Preferences. To access their laptops and the System Preferences, Apple has built its devices to need passwords and codes. 
The Administrator log-in password should be the same as the password for System Preferences. Touch ID may also be used to unlock System Preferences if you have it set up.
The only method to get around the password is to go to an Apple Store or contact Apple Support if you bought or acquired the computer from someone else.
Apple can assist you with unlocking System Preferences if you have confirmation that you are the owner of the machine. 
Before departing with the computer, ask the person who handed it to you whether you may change the password.
Apple is notorious for making it difficult for outsiders to sneak into its customers' computers, so it's no surprise that if you don't have a password, you won't be able to do anything. 
If this is your computer, though, and you've forgotten your password, there are a few options. 
What should I do if I forget the password to my Mac's System Preferences? 
If you forget your Mac's System Preferences password, you have a several choices for resolving the problem.
To begin, check to see whether you have the opportunity to change your password.
When attempting to log into the System Preferences, look for the "lost password" button. 
If the issue continues after resetting the password, contact Apple Technical Support. Call 1(800)APL-CARE and describe the situation to the customer service representative. 
They should be able to identify and resolve the problem. 
It is preferable to attempt to solve the issue on your own before going to the Apple shop.
You're undoubtedly pretty busy, so driving to the store, talking with an employee, figuring out the issue, and driving back may be difficult for you. 
So, first attempt to fix it on your own, and if that fails, the Apple shop or an Apple repair company may assist you.
After speaking with Apple Technical Support, you were most likely given directions on what to do next. 
Maybe they advised you to take the computer to a store or a repair shop, or maybe you worked out the problem yourself. 
You may also try updating your PC as a possible solution. 
It's difficult, but not impossible, to update your computer when you're locked out of System Preferences. 
Even if you use a different method to unlock System Preferences, be sure your Mac is up to date. 
It will be up to date on the most recent advancements and bug fixes, and it will perform more smoothly for you. 
Select "keep my Mac up to date" in the Software Update area to prevent falling behind on computer upgrades.
Rebooting the machine is another option for resolving the password problem. 
You may try turning it off and on again, however this will not necessarily reset the computer.
To reboot and reset your password, follow these instructions. 
Keep command + R pressed and held. This key combination activates recovery mode. Then, from the Utilities menu, choose Terminal. 
You'll then be able to input "reset password" and hit the "return" key.
The password reset process will begin, and all you have to do now is follow the instructions and prompts. You may reset your password after filling all the required information.
These are a few options for resetting your password for login into System Preferences once you've forgotten it. 
Apple is excellent at communicating with you and resolving any technical issues. 
If none of the above solutions worked, visiting an Apple store or phoning an Apple representative is a wonderful way to get support.
On a Mac, how do you unlock System Preferences? 
It's simple to unlock System Preferences; all you need is one password.
The password should be known by the person who set up the computer; if not, follow the procedures outlined above to reset your password. All you have to do now is go to System Preferences. 
You will be prompted for a password if you attempt to modify any system settings.
You may now put in the password or use Touch ID if you have that option enabled.
If you can't remember your password, you should contact Apple for assistance.
On a Mac, how do you unlock the Administrator?
When you are prompted to sign in as the Administrator, the Mac is requesting confirmation and permission to proceed with the work at hand.
If you want to unlock the Administrator on your Mac, there are a few basic actions you may do.
To begin, go to System Preferences. You'll notice a variety of choices there, but you'll want to choose "Users and Groups." After clicking on it, you'll be presented with a list of alternatives to choose from. 
However, there is a lock symbol in the lower left-hand corner. 
You must click on this lock to make any changes. 
You'll need to confirm your identity using your password, but after that, you'll see choices and be able to activate Administrator on your Mac. 
The "unlock system preferences using terminal" is a way to unlock System Preferences on a Mac without a password. The user will need to open the Terminal app and type in the following command: sudo dscl . -passwd /Users/username.
Frequently Asked Questions
How do I unblock System Preferences on Mac?
A: You can unblock System Preferences by clicking on the padlock icon in your OS X toolbars top-right corner, then entering an administrator password.
How do I get to System Preferences on my Mac without logging in?
A:
You can open the System Preferences window through Safari on your Mac, which will allow you to go into it without logging in.
Where do I find System Preferences password on Mac?
A: On a Mac computer, you can find the password for your System Preferences by going to Apple menu > System Preferences.
Related Tags
how to reset system preferences password on mac
system preferences is trying to unlock security and privacy preferences
system preferences won't accept my password
how to change system preferences password on mac
click the lock to make changes won't unlock