Gmail is one of the most popular email service providers on Earth. Gmail allows you to manage your emails, contacts and photos from any device anytime anywhere by accessing it through a web browser such as Google Chrome or Mozilla Firefox. However, whenever there is an update to Gmail account that requires data backup then things change for its users.
Some of the reasons why backing up your gmail account before updating are;
If you need access back into your old email when using an alternate email provider in case something goes wrong with the new mail interface, if you want immediate restoration after getting hacked and losing all their mails without having to start over again etc., …
Gmail is a great email service that provides access to your inbox and all of your other emails. However, if you want to be able to have access to these emails in the future, you should backup your account. Here are 3 ways to do this.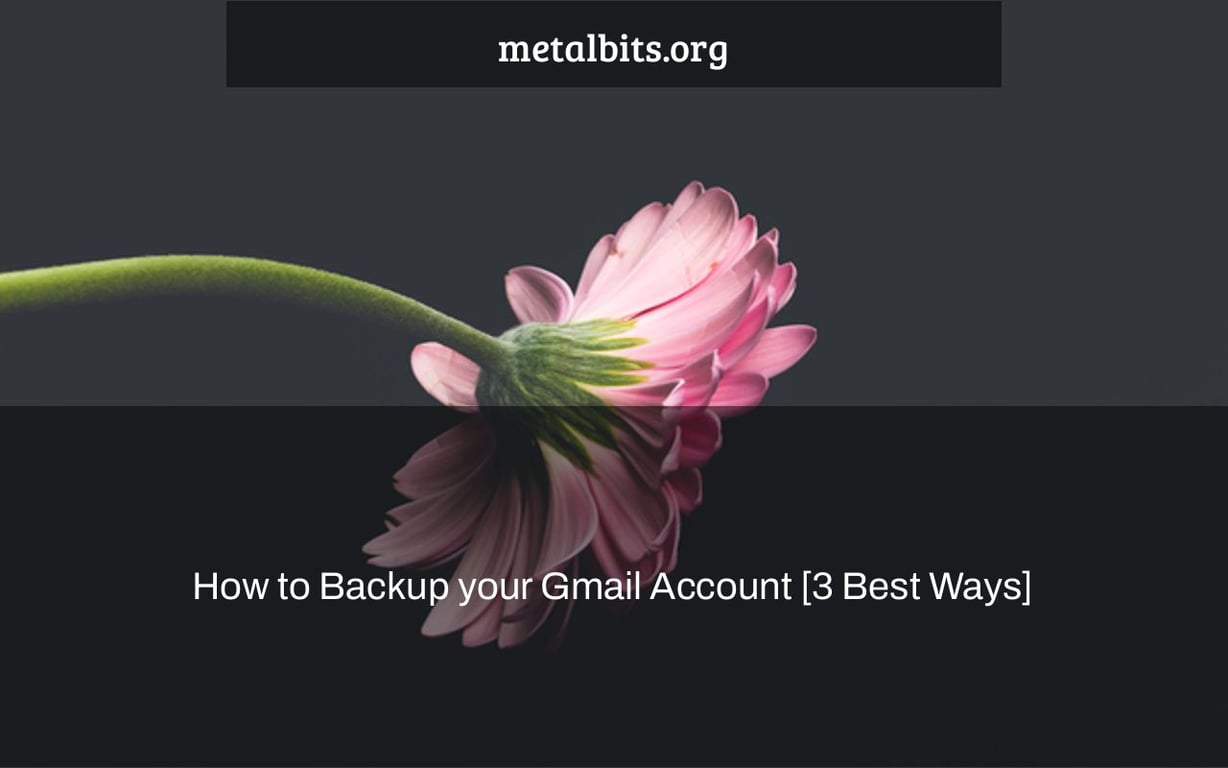 This is a must-read article for everyone who has crucial data in their Gmail account. Whether it's personal or professional information, it must be vital to you since it includes years of hard work. Many of us save personal or commercial information on our Gmail accounts, and losing this information might be quite expensive.
Best Practices:
Here are three quick and straightforward methods for backing up all of your Gmail account data without the need of a third-party extension. If you Google Gmail Backup, you'll find a slew of third-party Gmail Addons and apps, none of which we recommend since we have three additional ways to back up your Gmail data. Let's have a look at:
Three Easy Ways to Back Up Your Gmail Accounts
Google provides you with a number of options for backing up your Gmail data. So, here are the three techniques we'll use to back up our Gmail account: 
Back up your whole Gmail account to your computer's hard drive.
Make a backup of all Gmail emails and contacts to a different email address (Gmail, Yahoo etc.)
Sync your Gmail account with email clients like Outlook and Thunderbird, for example.
As there are the best techniques to have a copy of all your Gmail data on hand.  
#1. Back up your whole Gmail account to your computer's hard drive.
Google allows you to create an archive & download of all your data associated with your Google Account with 'Google Takeout' option. 
Simply go to the 'Google Takeout' URL and pick Google Products (including Gmail) to generate a bespoke archive. You will get a Download Link for this data through email, or you can download it straight to Google Drive, Dropbox, or OneDrive.
A separate extensive guide has been created; just click here to get the whole step-by-step instruction:
Takeout from Google: Download All of Your Google Data  
#2. Make a backup of all Gmail emails and contacts to a different email account.
Another approach to back up your Gmail account is to use this method. We'll just copy or move all emails from one Gmail account to another using this approach. The greatest part about this procedure is that it just takes a few steps to complete.
This can be done from 'Import Email & Contacts' option available in Gmail Settings. You have to log in to the email account to which you want to transfer all emails & contacts. In the recipient email id, you will get a new label consisting of same folder (Inbox, Draft, sent etc.) structure.
Get the whole step-by-step guide here:
How Do I Copy/Move Emails From One Gmail Account To Another?
#3. Integrate your Gmail account with email clients such as Outlook.
It's a real-time solution for backing up your Gmail account on your computer using email programs such as Outlook. Once you've established your Gmail account with any email client, it will periodically sync with your Gmail account and allow you to view your data even if you don't have internet connection.
It's a two-step procedure. First, activate IMAP service in your Gmail settings, and then link your Gmail account credentials to an account in Outlook or another email client.
Get the whole step-by-step guide here:
[Easy Steps] How To Sync Gmail With Microsoft Outlook
Now you know three easy ways to back up all of your Gmail accounts to your computer or another email address. You may also generate a backup using third-party software such as Unsafe, Spinbackup, Gmvault Backup, and others. Please share this post with others to assist them. Also, in the comments, let us know which approach or method combination you prefer.
Trick You Should Know: 
3 Best Ways to Get Around OTP Verification on Any Website | [FREE] App
The "gmvault" is a tool that allows you to back up your Gmail account. This is done by creating an encrypted archive file of your email messages, contacts, and other data. The backups are stored on your computer or external hard drive in the form of a compressed archive (.gpg).
Related Tags
gmail backup tool
how to backup gmail emails with attachments
gmail backup and restore
backup gmail emails to another gmail account
how to backup gmail emails to hard drive